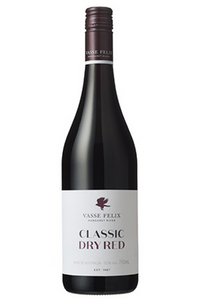 Easy going, light and luscious.A classic bright, lightly perfumed and succulent Margaret River Shiraz, characterised by its medium weight and delicious structure. This wine is an easy drinking, delectable style with light red fruit and a fine tannin profile. The individual batches were sent whole berry separately into stainless steel Rotating fermentation vessels. 100% wild yeast was allowed to ferment all of our red batches. They take a few days to start giving a gentle soak before fermentation kicks off and then pressed when fermentation complete. Open top and use of aeration during fermentation helps to promote a clean fruit perfume, soften the tannins and bring so much life to the wine. They were then matured in barriques for 12 months before coming out and being blended and bottled capturing the poise, elegance and freshness that Vasse Felix wines are known for. (Based on 2022 Vintage)
Tasting Notes (Based on 2022 Vintage):
Colour - Bright ruby with a purple tinge.
Nose - Light raspberry custard, red cherry skin and plum sauce perfume with a hint of forest floor, savoury mushroom, white pepper and nutmeg.
Palate - Soft and light with a crunchy fresh acid line. Plum, raspberry and blueberry flavours linger and meld with savoury layers. A light, smooth, satin tannin feel rounds the long finish with hints of plum jam and spice.
Region: Margaret River, Western Australia, Australia
Grape Varietal: 100% Shiraz
Critic Rating: TBA
Suggested Drink Window: TBA
Remark: This promotional offer is only valid from now till 28th September 2023. Fastest finger first, and while stocks last. T&Cs apply.