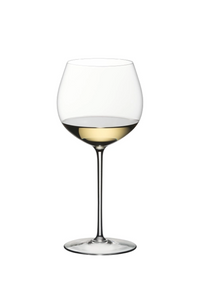 The Oaked Chardonnay glass is perfect to reveal the intensity of full-bodied white wines, including the wine's multi-layered aromas. With a larger volume, the wide open-mouthed bowl enables the rich bouquet to develop its wonderfully diverse range of aromas, emphasizing the finesse while minimizing the risk of richer style white wines becoming over-concentrated.

Meaning "super light" in Italian, RIEDEL Superleggero debuted in 2015 as a brilliant testament to the glassware leader's talented glassmaking team. The series features the bowl shapes from the original Sommeliers Series, but with even slimmer aesthetics and a feather light design.

This product is handmade and dishwasher safe.

Our master glassmakers individually craft each item so every piece has a unique character. Due to the nature of crafting, small tolerances in the size and weight of each product, tiny bubbles, imperfections, or slight surface variations are an acceptable part of the process.

This pack contains a single piece.
Item Number: 6425/97
Piece(s) Per Set: 1
Height/Capacity: 234mm/630ccm
Perfect For: Morillon (oaked), Pouilly-Fuissé, Corton-Charlemagne, Meursault, Montrachet, Chardonnay (oaked), Burgundy (white)