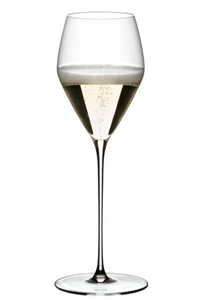 The Champagne Wine Glass has a diamond shape that allows the wide range of aromatics to unfold, as the extreme angles offer more space to develop aromas. Unlike a flute, this wider bowl allows the champagne's complex layers to grow and intensify, and the larger rim diameter enables them to be released in a way that is not achieved with a narrow glass. The glass also includes a 'sparkling point' to aid the formation of the Champagne bubbles.

RIEDEL Veloce is an impressive development based on state-of-the-art technology from RIEDEL's own factory.

The series uses the latest manufacturing technology to create products that feel handmade but offer the precision of machine production. With a lighter and finer profile, the glasses are ideal for new world wines and feature a 100mm diameter base inscribed with the designated grape variety.

RIEDEL Veloce also debuts new Cabernet and Riesling bowls for a heightened experience.

Machine-made and dishwasher safe.
Item Number: 6330/28
Piece(s) Per Set: 2
Height/Capacity: 247mm/327ccm
Perfect For: Champagne, Sparkling Wine, Cava, Franciacorta, Sekt, Blanc de Blancs, Prosecco